Innova Comfort 85B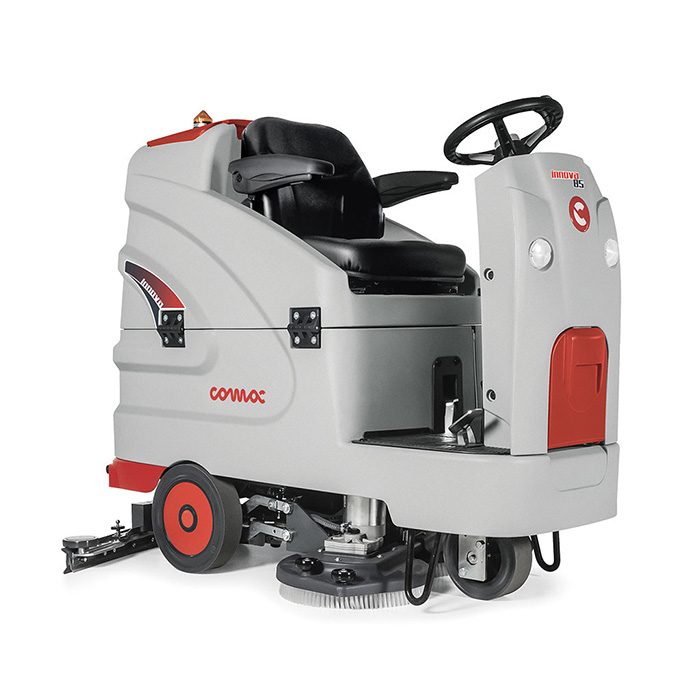 Innova Comfort 85B
Description:

Innova Comfort is a very comfortable and easy-to-use ride-on scrubbing machine. The capacity of the tanks and the technical characteristics make it an excellent ally for maintenance cleaning, in fact it is quick and effective, and it can guarantee maximum discretion in cleaning operations thanks to the standard devices for noise reduction.
Considering the contemporary scenario, Comac, which has always been attentive to the environment, has equipped Innova Comfort with innovative systems and technologies aimed at safeguarding resources, reducing waste and limiting consumption.
Advantages: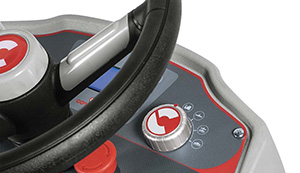 Innova Comfort 85B  is therefore suitable for working in environments characterized by large passage of people such as the public sector, schools, swimming pools, gyms and supermarkets and for all situations where professional cleaning of surfaces up to 6000 m 2 is required

Using the Innova Comfort  85 is extremely easy thanks to the working program selector which enables the selection of the type of activity to be carried out.  It allows you to choose from 4 pre-set work programs: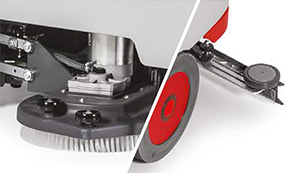 STOP&GO
When the machine is temporarily idle, the solution flow is interrupted, the brushes are halted and the brush head is automatically lifted off the floor, with no need for operator intervention. In this way consumptions are optimized and wastes reduced. Pressing the forward movement pedal restores the functions that were previously activated.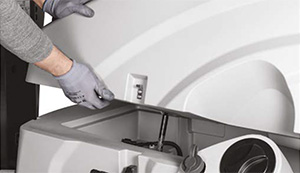 The recovery tank opens automatically thanks to a gas spring, making this operation easier and reducing the effort required from the operator to a minimum. Furthermore, to close the recovery tank completely, a light pressure from above is all that is required.

The possibility to install an on-board battery charger enables battery charging operations on the Innova Comfort to be facilitated.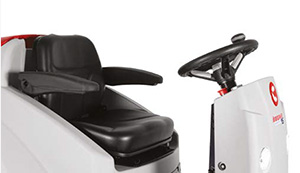 The driving position has been revolutionized. The reclined position of the steering wheel and the super comfortable seat with armrests ensure maximum comfort for the operator, enabling them to work comfortably even for prolonged periods. In addition, the driving position provides the operator with better visibility and maximum control over all of the functions of the scrubbing machine.
| | |
| --- | --- |
|   | INNOVA COMFORT 85B |
| Work capacity up to sq.m./h/sq.ft./h | 5100 |
| Autonomy up to (h) | 4 |
| Working width (cm/inch) | 32 |
| Width with squeegee (cm) | 1085 |
| Solution tank (l/gal) | 110 |
| Noise level dB (A) | 65 |
| Power supply | BATTERY 24 V |