CS90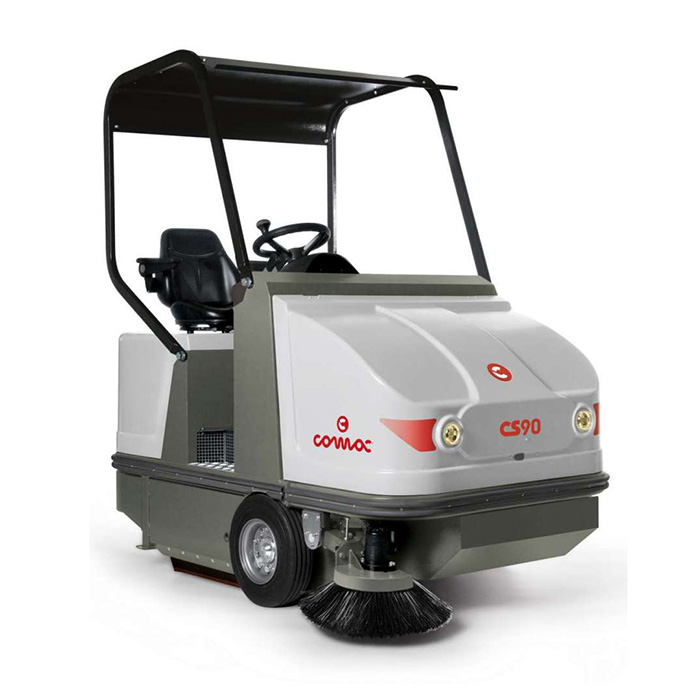 CS90
Description:

The CS90 sweeping machines by Comac are suitable for cleaning the most resistant dirt on outdoor and indoor surfaces such as those of department stores, squares and car parks up to 20,000 sq. m.
They are available with a battery or a diesel engine with a work-track of 122 cm (CS90) with 1 side brush.

The CS90 sweepers are suitable for cleaning large surfaces or small and narrow and cluttered up areas thanks to the box frame built around the centre brush which is very compact but also extremely strong. The hydraulic system designed to reduce waste and keep oil temperature within optimum values increases performance and minimises the use of energy. The result of the combination of these elements is the considerable reduction in consumption compared to the previous model and, as a result, the machine's autonomy is longer, now up to 4 hours (CS90B version installing 480 Ah C5 batteries).

To guarantee maximum driving comfort for the operator at all times and maximum reliability, all the main functions are hydraulic:
- Traction;
- Lifting and emptying the rubbish container;
- Rotating the brushes;
- Vacuuming dust.
Advantages: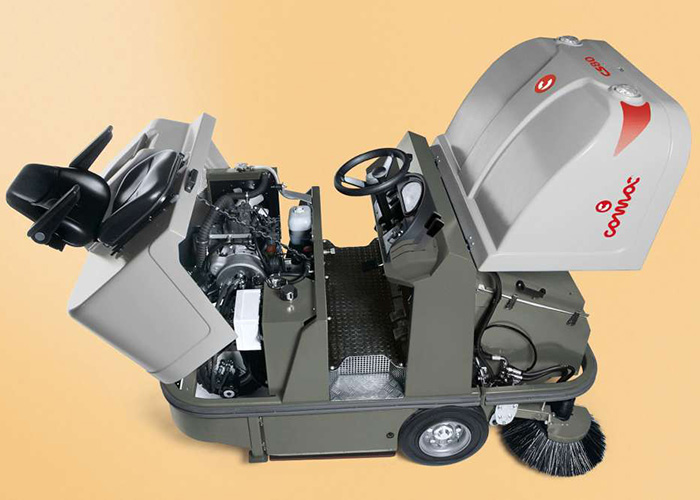 Operations like checking the oil or changing the filters for instance, in the motorised version, are now very easy. In the B version, the box housing the electrical devices is located centrally to allow their quick and easy check as well as check of the fluid level in the battery elements. A battery box can be installed with a capacity of up to 480 Ah C5 (CS90B version)
The front box for collecting dirt has a capacity* of: 220 l. (CS90) and is lifted by a 2-piston hydraulic system operated by the handy control where the driver sits.
Suction is operated by a hydraulic motor.
Discharge height: 1.4 m
* Measurement read on the edge of the filter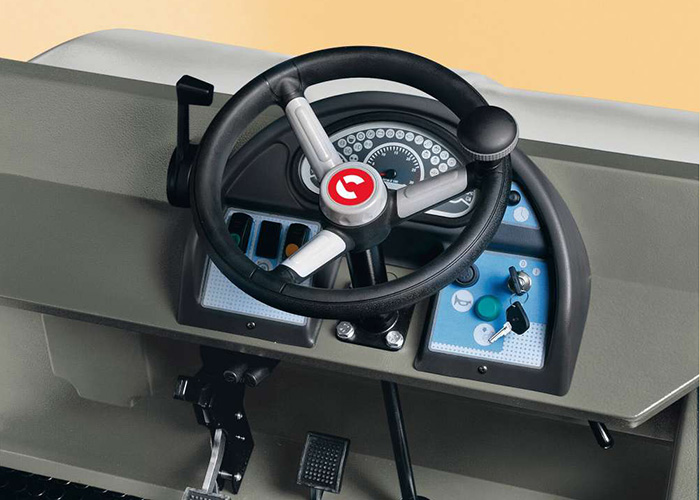 CS90 sweeping machines are fitted with an innovative instrument panel, like the one you would find in a car, with instant display of all the functions. The innovative steering wheel has been designed to make driving extremely comfortable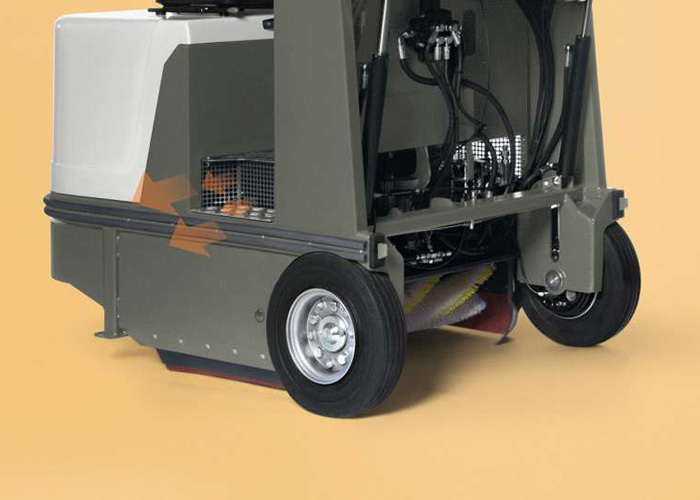 The vacuumed air is discharged through grilles located high up on the machine. This means that none of the dust that has settled on the surface surrounding the machine is lifted, thus guaranteeing excellent cleaning results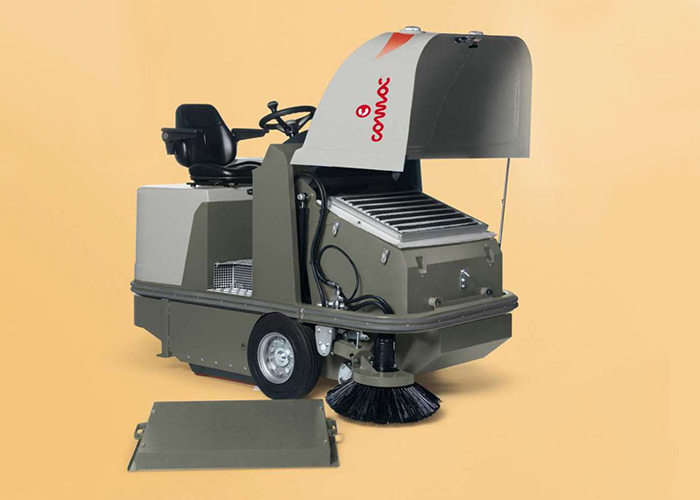 The fabric bag filter, with a generous filtering surface of 8 sq. m (CS90), is long-lasting and enables excellent suction results, even in environments with a high level of fine dust, thanks to its powerful filter shaker.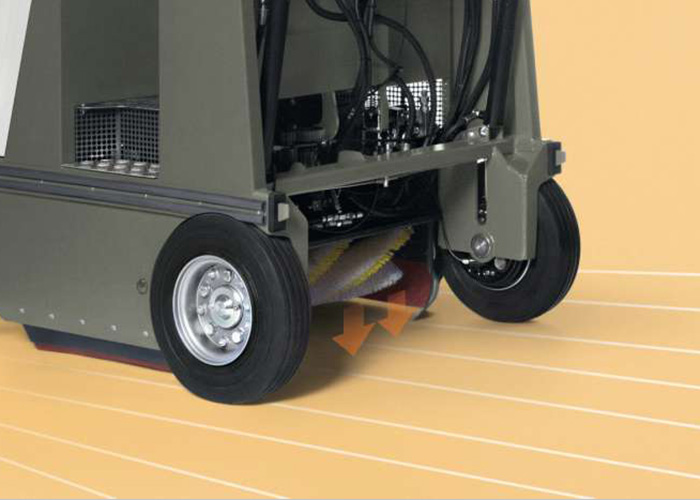 The central brush is the floating type and self-adjusts to keep in contact with the ground all the time
| | | |
| --- | --- | --- |
|   | CS90 D | CS90 B |
|   Work capacity up to sq.m./h/sq.ft./h | 10.980/118191 | 10.370/111625 |
|   Autonomy up to (h) | unlimited | 4 |
|   Working width with central brush (cm/inch) | 90/35,5 | 90/35,5 |
|   Working width with side brush (cm/inch) | 122/48,1 | 122/48,1 |
|   Electric motor (V/W) | - | 36/4000 |
|   Diesel motor (HP) | Perkins (20) | - |
|   Type of drainage | hydraulic | hydraulic |
|   Debris hopper capacity (l/gal) | 220/400 | 220/400 |