CS50 H/HT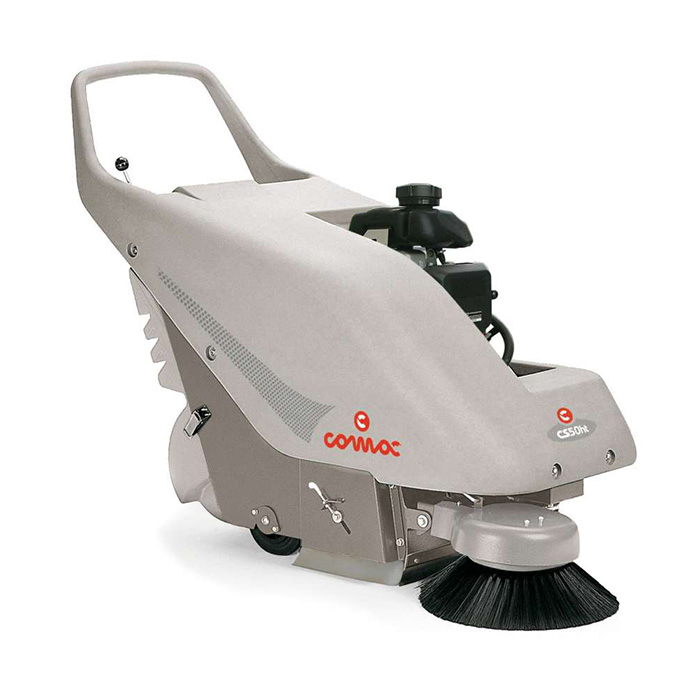 CS50 B/BT
CS50
Description:

The CS50 sweeping machine by Comac is suitable for the cleaning of small indoor areas or highly cluttered medium-to-large spaces.
It is ideal for the cleaning of surfaces up to about 1,200 sq. m.
The CS50 sweeping machine can be battery- or petrol-powered and has a 65 cm working width (including the side brush).

CS50 is a small walk-behind, extremely manoeuvrable, compact sweeping machine.
The handle bar grip, made of comfortable plastic material, makes operation of control levers extremely easy.
When the surface to work on is wet or damp, the suction switch-off lever should be operated.
Cleaning corners and along the walls is made easier thanks to the side brush.
The panel filter, with its large filtering surface, retains dust particles very effectively. (Now the "washable", reusable version is also available).
The front and side flaps play an important role in avoiding raising dust during operation.
Advantages: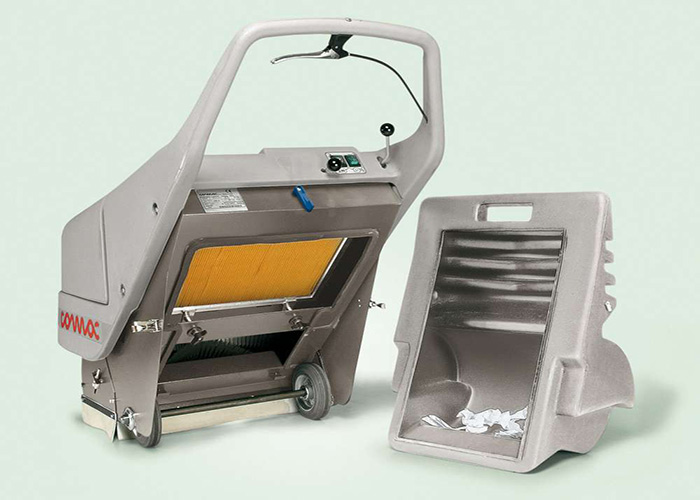 RELIABILITY
The easily replaceable 2.5 sq. m panel filter and the electric filter shaker (optional) facilitate operations even in very dusty environments. Dirt is directly transported into a robust and lightweight dirt hopper for easy effectiveness.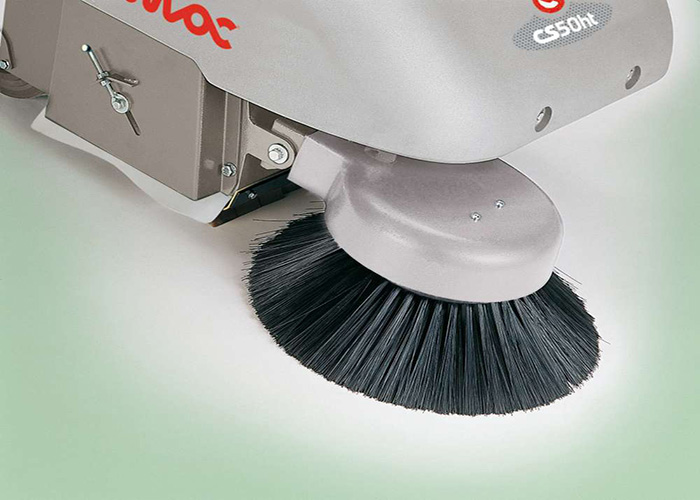 It is indispensable when cleaning up corners and along walls.
In case of very dusty floors, to avoid raising dust, the brush may be lifted up, stopping its rotation.
The sturdiness of the CS50 means it can be used on irregular surfaces without problems.
It allows consumption savings and greater safety, as the brush only rotates when the machine is working.
Excellent reliability of the drive unit, due to the use of trapezoidal belts.
| | | | | |
| --- | --- | --- | --- | --- |
| | CS50 H | CS50 HT | CS50 B | CS50 BT |
| Work capacity up to sq.m./h/sq.ft./h | 2.275/24500 | 2.600/28000 | 2.275/24500 | 2.600/28000 |
| Autonomy up to (h) | unlimited | unlimited | 1,30 | 1,30 |
| Working width with central brush (cm/inch) | 50/20 | 50/20 | 50/20 | 50/20 |
| Working width with side brush (cm/inch) | 65/25,7 | 65/25,7 | 65/25,7 | 65/25,7 |
| Electric motor (V/W) | - | - | 12/600 | 12/600 |
| Motor (HP) | Honda (3) | Honda (3) | - | - |
| Type of drainage | manual | manual | manual | manual |
| Debris hopper capacity (l/gal) | 40/10,6 | 40/10,6 | 40 | 40/10,6 |